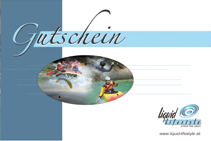 A Liquid Lifestyle certificate can be used for (almost) everything…!

If necessary we send you a pdf-version of the certificate by email! You receive the bill and transfer the money easily from home.
Advantages with our certificates:
All Certificates issued by us can be redeemed by us. – so there's no problem when setting a date.
We print your own special text (if wished) directly on the certificate (please indicate so when ordering)
The original worth does not fade, even after the expired date!
Give a piece of happiness: leave every-day life behind and enter the adventure!